Back to all posts
Posted on
Last Day of Direct Instruction Across Division is June 22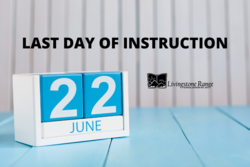 June 22 will be the last day of direct instruction for students in Livingstone Range School Division. This applies to all elementary, junior high, and senior high students.
Teachers and staff will continue to work until the regularly scheduled last day of school on June 26. During this time, teachers will provide feedback on student work; discuss with next year's teachers the needs and opportunities for their students; and plan for the 2020-2021 school year.
Due to the COVID-19 pandemic and its related changes to instruction, there will be no Provincial Achievement Tests or Diploma exams this year. Report cards will be issued to each student, and will be mailed on or before June 26.
We wish to thank our staff, students, and families for the amazing way you all have adapted to at-home learning. This year certainly was different than we expected but as a community we have done great things during a difficult time.
We look forward to the time when we can meet together in our schools once more.