Back to all posts
Posted on
School Fees to Be Reimbursed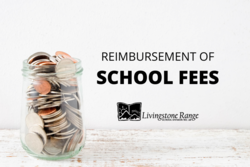 On April 30, 2020 Premier Jason Kenney announced that schools will remain closed for the rest of the academic year. The focus up to this point in time has been to continue to provide basic education to students in alternative methods. As a result, some option classes and activities that students were involved in prior to school closure March 15th were put on hold as we awaited to see whether school would resume in this school year.  
Given the April 30th announcement, schools will reimburse parents on a prorated basis any fees that relate to services that will not be provided in this school year. 
Thank you for your patience in this matter. We wish you all the best and look forward to seeing you again when it is determined to be safe to do so. 
Please contact your school if you have specific questions related to your situation. 
Jeff Perry
Livingstone Range School Division Associate Superintendent, Business Services