Back to all posts
Posted on
The Nanton Solution: New & Modernized School Buildings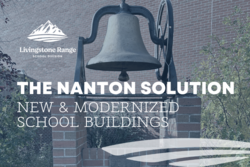 For many years, the modernization of J.T. Foster High School has been the number one Capital Plan priority in Livingstone Range School Division (LRSD). The Board of Trustees has fervently advocated to the provincial government for the upgrades and renovations necessary to provide students at J.T. Foster with an equitable educational environment to their peers across Alberta.
As one step in the process to apply for modernization funding, Alberta Education encourages school divisions to go through a Value Scoping session to identify solutions that provide the highest value for money while maximizing the utilization and functionality of school infrastructure to optimize the learning environment and educational program delivery for students.
Value Scoping is a structured problem-solving process based on the Value Management discipline. Using function analysis to develop a range of alternatives and achieve consensus around a preferred solution, the process seeks the optimum balance that maximizes functionality and minimizes cost.
In June 2022 the LRSD Board of Trustees and Senior Administration went through a facilitated Value Scoping process, similar to one undertaken in 2016. As a result, Livingstone Range School Division now seeks a Nanton Solution that will benefit all students in the community. The Nanton Solution proposes a new elementary school building in the Town of Nanton alongside a modernization of A.B. Daley into a junior/senior high school. The A.B. Daley building is better suited than J.T. Foster for modernization, with flexible space that would allow junior and senior high school students access to a large gymnasium, commercial kitchen, and modern Career and Technology Studies (CTS) shops. 
During construction, students would stay in their current school buildings, with elementary students moving to the newly constructed elementary school upon completion. Junior/senior high school students would move to the A.B. Daley building once modernization is completed, following which the J.T. Foster building would be demolished.
LRSD submitted an updated proposal to Alberta Education at the end of July 2022 for consideration in the next round of provincial new schools/modernization funding announcements. In August 2022 several Board Members and Senior Administration met in person with Education Minister Adriana LaGrange and discussed the value of the Nanton Solution. Trustees will continue to work with local partners and the provincial government until the Nanton Solution is approved.
In coming months we will invite stakeholders to share ideas about potential programming and partnerships in connection with the Nanton Solution.