Back to all posts
Posted on
Learning Together: Exploring Métis Culture at Stavely School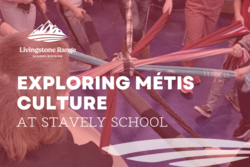 Julaine Guitton could never have guessed that a Métis Studies course for her Master's degree would have been so relevant to her Grade 5/6 classroom. The Stavely School teacher is exploring Métis history, culture, and language alongside her students.
"When I began the Métis Studies course through the University of Alberta with the cooperation of Rupertsland Institute, I realized that I knew very little about the Métis people," says Julaine. "Most of the students in my classroom also had little knowledge, including those who identify as Métis."
Julaine began including language and culture pieces regularly in her classroom. Rather than a one-time lesson or experience, Julaine believes in sustainable programming that creates ongoing opportunities to learn and moves toward reconciliation. 
That programming includes Michif language in the class's morning meeting, rotating the Alberta Métis national anthem alongside "O Canada" in English and in French, and experiencing Métis traditions like dancing, soup-making, and games as part of her weekly practice. Julaine's students teach the Grade 3 and 4 students the Michif words they are learning and the class is developing a stronger sense of belonging. 
Many of the cultural pieces are taught by Joel Gamache, First Nations, Métis, and Inuit Leader in Livingstone Range School Division. Joel is himself Métis and is an ambassador for Rupertsland Institute, a Métis centre of excellence that promotes education, training, and research. Recently, Joel joined the class and facilitated a cultural gathering known as a kitchen party with the students, where they made bannock and heard traditional stories.
"I still have so many things to learn," says Julaine. "It's rewarding for students to see adults as learners and that I am doing all the things I ask of my students. This is one thing that I can do for my students, and it is a great adventure."
For more information about First Nations, Métis, and Inuit programming and services in Livingstone Range School Division, contact Joel Gamache.