Back to all posts
Posted on
K Check Ins - May 10th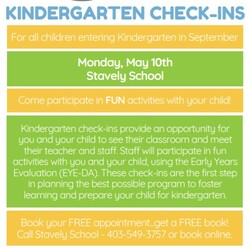 Kindergarten check-ins provide an opportunity for you and your child to see their classroom and meet
their teacher and staff. Staff will participate in fun activities with you and your child, using the Early Years Evaluation (EYE-DA). These check-ins are the first step in planning the best possible program to foster learning and prepare your child for kindergarten.

KINDERGARTEN CHECK-INS

Monday, May 10th
Stavely School

Book your FREE appointment...get a FREE book!
Call Stavely School- 403-549-3757 or book online.