Back to all posts
Posted on
GIVE-BACK! Grade 5/6 Food Drive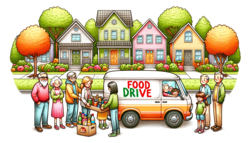 The grade 5/6 class of Stavely School is collecting non-perishable food bank items for the Claresholm Food Bank, as part of our school leadership work. 
We will be collecting the bags on the morning of Tuesday October 31, 2023.
Please place your bag on the front step for pick up or you can drop your donation at the school.
If you would like to make a cash donation, they are gratefully accepted at the Stavely School Office. 
Thank you for helping us make a difference.