Back to all posts
Posted on
Financing Post-Secondary Virtual Session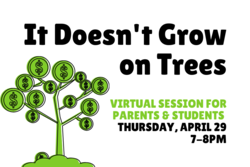 We all wish it did, but money just doesn't grow on trees! That's why planning ahead for financing post-secondary education in the trades, at college, or at university is so important.
Parents and students are invited to join us for a virtual session on April 29 from 7 to 8pm to learn more about financing options. Guest speakers will share information about RESPs, student loans and grants, as well as scholarships available for both high school students and those currently completing post-secondary.
This event is free - and the information you'll receive is priceless!
Questions? Email croskeryl@lrsd.ab.ca or call 403-915-0781.