Back to all posts
Posted on
Fall 2020 Re-Entry Possibilities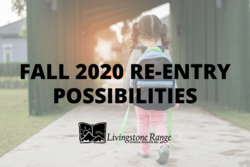 To: All Parents/Guardians
From: Darryl Seguin, Superintendent
With only four weeks of the 2019-2020 school year left to go, many of us are thinking of what next school year might be like. I would like to share what our planning and discussions have been as we try to look ahead to the uncertainty of education in September.
The Ministry of Education has identified 3 scenarios as likely options for re-entry 2020-2021. They are:
Scenario 1 - Normal Operations 
Scenario 2 - Schools are open for classes with some health restrictions that affect operations 
Scenario 3 - Schools remain closed for classes – at-home learning continues
The Board of Trustees Emergency Response Committee, Senior Administration, and the Division Health & Safety Committee are reviewing and making broad plans for each scenario. Our process and timeline for determining the 2020-2021 re-entry plan is as follows:
Wait for the provincial Chief Medical Officer of Health and Ministry of Education re-entry guide to be shared with education stakeholders.
Based on the re-entry guide, customize plans for LRSD in each of the three scenarios.
Communicate plans to staff, students, and parents.
Survey parents to find out intentions about children returning to school or continuing at-home learning (anticipated timeline is mid-June).
Based on response information, create a plan for LRSD that includes school-based flexibility in some areas (anticipated to be late June).
Re-survey parents for final decision about student involvement (early August) and schools will readjust staffing to meet needs.
We are confident in our abilities to deliver education under Scenarios 1 & 3: we've been doing that very well. However, Scenario 2 seems the most likely at this time, and as such we are focusing on its many complex issues. Some of those considerations include:
Maintaining physical distancing including in classrooms, at recess and lunch breaks, and in washrooms
Use of shared equipment, library books, manipulatives, etc.
Ensuring adequate custodial staff
Identification of essential curriculum outcomes
Self-isolation/quarantine guidelines for staff and availability of subs
As more information from the Ministry of Education and the Chief Medical Officer of Health is made available, and as we determine what re-entry in 2020-2021 looks like in LRSD, we will share that information with staff, parents, and students. In the meantime, school administrators will determine how space in each school can best be utilized with physical distancing requirements, and will look at the skills and education of staff to determine how staff might best be deployed in Scenario 2. 
Thank you for your patience as we wait for guidance from our governmental authorities. We have great trust in our LRSD staff, parents, and students to respond to change with positivity, innovation, and enthusiasm. You've demonstrated that remarkably well this spring, and we expect fall 2020 to be no different.
Darryl Seguin
Superintendent